ANNIVERSARY AT HOME (Combo #1 and #2)
It's your child's birthday very soon? A nephew or a niece? Why not give him a show animated by a magician.
Martial Tremblay offers a dynamic and colorful show of a duration depending on the chosen package, from 20 minutes to 60 minutes.
The participation of several children chosen from the crowd will be called to assist the magician. But, it is without forgetting that the child will be celebrated throughout the event and feel very special on this wonderful day full of memories.
At home, in the restaurant or in a fun center, whatever the room chosen for the big show, it will be transformed into a Magic Theater, which will captivate all children from 7 to 99 years old.
"Thank you all for the wishes of Eden's Happy Birthday !! It's a happy little boy who went to bed last night !! It is the head filled with magic and the filled heart of love that it sank in the arms of Morphée !! Thank you to all the people who were present you have greatly contributed to his happiness! Special thanks to Martial Tremblay for your unique service !!! You impressed young and old alike! "

Sophie Huberdeau

THE MAGIC WORKSHOP (combo #3)
This is perfect for small beginner magician who want to learn more. The magic can be an excellent hobby, very inexpensive and accessible to all. It brings many benefits to the child: concentration, confidence, dexterity and more. Magic pleases everyone, big and small and can be realized everywhere, with objects that are familiar to them: paper, elastic, card, coin, etc.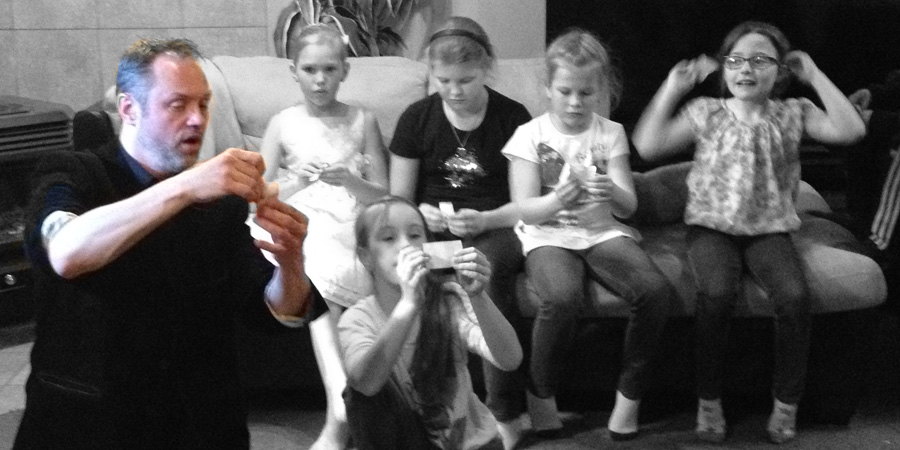 This package includes:

- 35 min show. All with the participation of children.
- Magic Workshop. Some numbers presented in the show will be explained and made by the children.
- Balloon sculptures offered to the child (1 per child: Ex: Animals, hat, flower, sword, etc.)
- Duration approx. 90 min.
"I invited Martial to present his magic workshop to my children. And since, my boy is not filled with passion and does not stop showing us his prowess. I am very happy because he was a very shy boy and thanks to the magic, I already see a difference in the way he is now. Everything is very beneficial for him, thank you again."

Mme Beauchamps, Laval