It's the anniversary of your child, an uncle or a grand-father ? Why not offer him a show hosted by Martial Tremblay. He has been offering a dynamic, colorful show adapted to your needs for many years. His infectious humor mixed with his incredible numbers will make your event a guaranteed success.
3 TYPE OF SHOWS ARE OFFERED TO YOU:
#1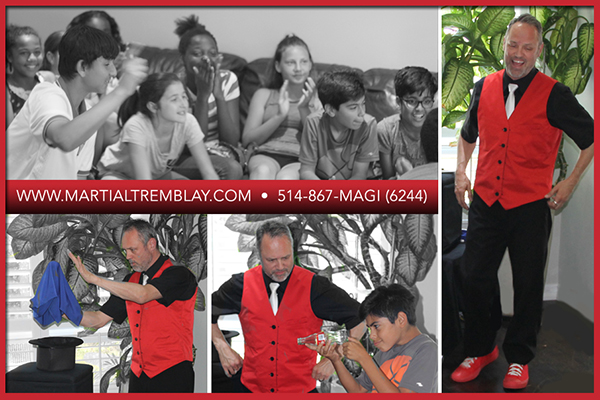 Magic show for young kids (Show for 5+)
Interactive show where the imagination of children will be put forward. Their collaborations will be essential for the success of the magic trick.

Teleportation, disappearance, multiplication, appearance, everything will be there. His childish humor appeals to children and his approach " you can do it too ", makes for a great connection with the magician.

For younger kids, theres magic with coloring books, superheros, Minions, Paw patrol, etc...
A funny show where you will be surprised and entertained at the same time. Great memories that can be shared with the whole family.


THE SHOW INCLUDES:

- 40 minutes show approx.
- With the participation of the birthday child and he's guest.
- Balloon animal are given after the show. ( 1 per kid: Animals, flower, sword, butterfly, etc... )
- Length: 60 min.

( Maximum group 12 person, fee additionnal for larger crowd )

Contact us to get information on different option and to get the prices. Reserve a few weeks in advance.
I have a very happy little boy who went to bed last night !! And now it's all he talks about, magic magic! Thank you Martial for your unique service and for turning him into a magician! You have impressed young and old alike !!!!" Sophie Huberdeau
---
#2
"It's TIME to get together! "
(Spectacle Thématique, 8 ans+)
In this show, Martial the magician will turn himself into an inventor, a chemist, a creator or a time traveler in order to discover a unique and different kind of shows! Thanks to his inventions, objects can multiply, travel from one place to another or just disappear.
Incredible predictions like only a time traveler could pull off will take place
We will go back in time to talk about great inventors, magicians, authors, and other giant like Houdini or Thomas Edison might be part of the storyline.
An interactive, funny and entertaining show that will put "magic" in your event.

A great idea for any event you want to celebrate. Book now
---
#3
MAGIC WORKSHOP
This is perfect for little wizards who want to learn more. Magic can be an excellent hobby that is inexpensive and accessible to everyone. It brings several benefits to children: concentration, confidence, dexterity and more. Magic appeals to everyone, big and small and can be done anywhere, with familiar objects: paper, rubber bands, cards, coins, etc..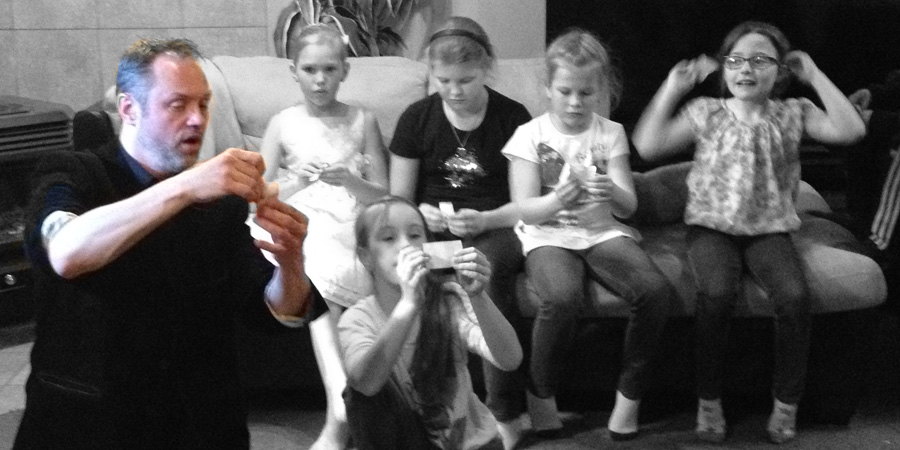 THIS PACKAGE INCLUDES:

- 30 minutes show with children's participation.
- MAGIC WORKSHOP a few trick will be explained and taugh to childred.
- Balloon animal are given after the show. ( 1 per kid: Animals, flower, sword, butterfly, etc...
- 90 min. approx. length

( Group of 10 people maximum. age minimum required 7 years old.
"I called on Martial to present his magic workshop to my children. And since then, my boy is passionate and continues to show us his amazing tricks. I am very happy because she was a very withdrawn child and thanks to the magic, I can already see a difference in her way of being. It is all very beneficial for her, thank you again. "

Mme Beauchamps, Laval